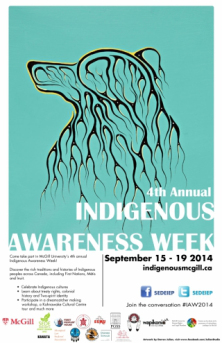 Audra Simpson's lecture on aboriginals in academia was assuredly a highlight of this year's Indigenous Awareness Week. Hosted at McGill and running from September 15th through to September 19th, this week's events covered topics ranging from traditional dance to the impacts of the institutionalization of indigenous children. This year marked the 4th Indigenous Awareness Week and was "designed to increase awareness at McGill about indigenous peoples in Canada."
While the main goal of this week was awareness, some aspects attempted to shift that awareness from simply being a social imperative to being motivated by academic and historical reasons. Audra Simpson, a McGill alumna and now an associate professor of anthropology at Columbia University, gave Thursday evening's Homecoming Lecture on September 18. Through her own personal account, she made clear that not only was indigenous awareness a personal matter, but also a crucially communal one.
Simpson, a Kahnawake Mohawk, graduated from McGill in 2004 and again in 2006 with a Masters and a PhD in Anthropology, respectively. To this day, Simpson is a strong proponent of the First People's House and the presence of indigenous scholars at McGill. As evinced in her talk last week, however, she believes that much progress is still needed, at McGill and in academia more generally.
One topic that was central to her lecture was an alternative definition of excellence, that is, alternative to McGill's traditional view. Known primarily as an academic and research-oriented university, McGill has preserved a high standard of academic excellence for many years, while achieving world rankings in the process. To Simpson, however, academia is not strictly about scientific process and rigour. Academia, as Simpson explained, is also about diversity.
One year before being accepted to McGill University for her Master of Arts, Simpson was rejected admission to the exact same program. With marks just short of the standard, Simpson had applied in hope that her area of study and nonacademic experience — she planned on pursuing indigenous studies — would merit a position, only to be denied. A year following, with the same marks, she was accepted. The difference was that in the interim a key paper discussing the ethics of indigenous studies was published by a McGill professor, Dr. Bruce Trigger. The paper, which highlighted the unethicality of excluding indigenous scholars from indigenous studies, was just what Simpson needed. Despite the paper, Simpson never felt fully accepted while at McGill for her M.A., explaining that she felt a constant need to "prove [herself]" to the faculty. Despite its own scholarship, she believed that McGill continued to take issue with her on account of her substandard academic qualifications.
Now on track to becoming the third indigenous Ivy League professor educated at McGill, Simpson advocates for a new standard. Using herself as an example, she proposed in her talk for a standard of excellence based on both academics and diversity; potential graduate students should be assessed on how they can contribute to the content of academia, not solely on their mastery of academic form and process. Although this may at first seem like affirmative action, Simpson's message extends beyond indigenous students and issues. Her idea is a radical and systemic change.
Beyond this, Simpson also covered the topic of McGill's historical dependency on and connection with various indigenous groups, illuminating more fully the historical context and specifically the lack of acknowledgement of aboriginal influence and participation.
The question that remains is whether this year's Indigenous Awareness Week will be remembered as an of civic education or a call to action.