Journalists for Human Rights (JHR) is Canada's largest international media development organization.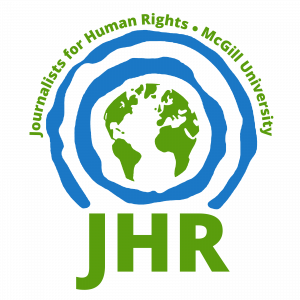 The JHR McGill Chapter is an entirely student-run platform that seeks to cover human rights stories objectively and effectively. We operate through the use of numerous forms of media, including an online journal, podcasts, and video segments. We are affiliated with the larger JHR organization.
To this end, JHR McGill is dedicated to promoting a unified campus on issues related to human rights and journalism. We strive to collaborate with other clubs and services on events and campaigns.  Groups that we have coordinated with in the past include TV McGill, CKUT, McGill Global AIDS Coalition, Cinema Politica, Arts Internship Office, among others.  We are open to working with more clubs on campus: if you are part of a group and would like to work with JHR McGill, please contact us at jhrmcgill@ssmu.ca.
Stay in touch by joining our listserv (email us at jhrmcgill@ssmu.ca) and our Facebook group.