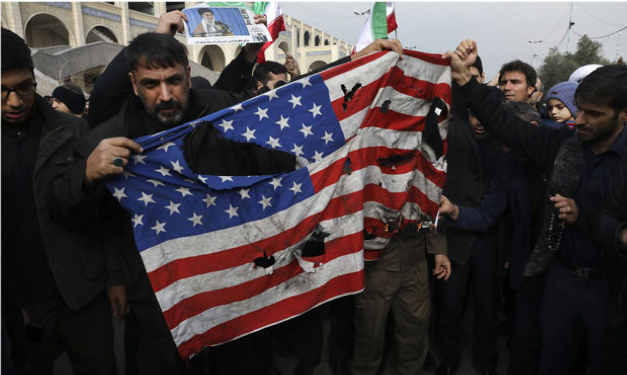 The United States and the Iranian regime
Contemporary international relations between the United States and Iran are a classic case of prioritizing inter-state objectives over human welfare. Amid rising tensions, people have become more focused on the race for superiority between Iran and the United States, rather than the resulting human suffering and violence. The Western political agenda has long dehumanized[i] those living in the Middle East. Western populations have become blind to the declining living conditions that have come at the expense of the United States' current maximum pressure sanctions. Iran is particularly vulnerable as nation that, at its roots, desperately seeks a reduction of American influence in the region and the right to genuine state sovereignty[ii].
That is not to say that the United States been alone in harming the rights and freedoms of the Iranian people; Ali Khamenei, the articulate yet corrupt Supreme Leader who has been in power since 1989 has also been a perpetrator[iii]. Currently, he is serving as the most powerful source of authority in Iran, wielding most of the power in making de facto decisions with control over the legislative, executive and judicial branches, as well as the military and the media[iv]. Since his reign began, there has been no shortage of human right violations. His authorities have oppressed freedoms such as those of expression and religion and discriminated on the basis of gender, ethnicity and sexual orientation — punishing citizens with the use of torture, amputations and executions[v].
The "horribly one-sided" Iran Nuclear Deal (JCPOA)
The Iranian regime's aggressive reputation and its hostile relationship with countries like Israel and the United States has led the international community to commit itself to a series of preventative diplomatic nuclear proliferation agreements[vi]. As a result, the 2015 Iran Nuclear Deal was an agreement between the P5+1 and the EU to enforce strict limits on Iran's nuclear programs in return for having sanctions lifted[vii]. Iran's economy has grown especially dependent on the cooperation of the United States[viii], and after decades of economic isolation, this deal meant that Iran could finally open its borders to foreign investment and secure a role in the global market. According to the Central Bank of Iran, their GDP grew by 12 percent annually following the deal and their oil production doubled between 2015 and 2018[ix].
Despite bringing prosperity, the deal's adoption had been contentious in the United States, garnering criticism almost immediately from Republicans. Consequently, once the Trump administration assumed office, it took little time for the United States to formally withdraw from the JCPOA — arguing that there were inherent "flaws" to the deal which made it "horribly one-sided"[x]. The withdrawal meant sanctions were again levied against Iran on oil, the Central Bank and other forms of trade[xi]. The United States' forcefulness has impaired Iran's economy as most of their trade allies have been deterred in fear of repercussions from the United States. The outcome has been drastic — oil production, which played a major role in Iran's foreign exchange profits, has plummeted to nearly zero barrels per day[xii].
Whose gain and whose loss? Lose-lose situation?
This inter-state game of chicken has been disrupted by violent attacks enacted by both sides, such as the assassination of Qassem Soleimani by the United States[xiii]. Despite escalation, neither the United States nor Iran are showing signs of surrender and the accumulating losses have not translated into oppositional gains. Yet again, zero-sum game theorists have been matched by real-world conflict. While it is clear that neither side has achieved its goals (Iran still faces sanctions and responds by continuing to expand its nuclear activity at the United States' dismay) there is an exogenous group that is suffering substantial consequences: the Iranian public[xiv].
Sacrificial sanctions
Iran's permanent representative at the United Nations, Majid Takht Ravanchi, explained that sanctions are fundamentally designed to "harm the poor more than the rich, the ill people more than the healthy people, infants and children more than adults"[xv]. Indeed, the rial, the Iranian dollar, has lost over 50 percent of its value since the United States withdrew from the deal, and vulnerable Iranians are suffering the most. Tens of millions of people are helpless as they watch their savings and family businesses disappear as a result of Trump's maximum pressure sanctions[xvi]. In addition, inflation has caused a decline in purchasing power leading to shortages of basic amenities like food, medicine and clothing. A previously agriculturally rich nation, once Iran entered international trade, it refocused most of its productivity from agriculture to other specializations, causing the modern deficit in available soy for animal feed, trucks, tractors, and pesticides[xvii]. Thus, food scarcity has raised prices to unrealistic levels for the average family.
While inflation remains at 41 percent, the inflation on food has risen to 74 percent—even the price of bread has tripled[xviii]. This trend is happening in all areas that impact the poor the most, for example, in 2019, rent increased by more than 95 percent in Iranian cities[xix]. At a time when there is no scarcity of violence, discrimination, or human rights violations, the destruction of worlds is reflected through mere numbers and news coverage; however, the individual-scale impacts of these sanctions must not go unaddressed.
Edited by Laurence Campanella
---
[i] Killoy, Andrew, Earp, Jeremy, Patierno, Mary, Jhally, Sut. "Reel bad Arabs: how Hollywood vilifies people." Media Education Foundation, (2006).
[ii] Zarif, Javad. "What Iran really wants." Foreign Affairs, (June, 2014).
[iii] Fisher, Max. "How Iran became an undemocratic democracy." The New York Time, (May 17, 2017).
[iv] (n.n). "IRAN 2018." Amnesty International, (2018).
[v] (n.n). "IRAN 2018." Amnesty International, (2018).
[vi] Fisher, Max. "The U.S., Iran and a no-win game." The New York Times, (Jan 9, 2020)
n.n. "Ali Khamenei." ENCYCLOPÆDIA BRITANNICA, (January 15, 2020)
[vii] Sepehri Far, Tara. "Maximum pressure: US economic sanctions harm Iranians' right to health." Human Rights Watch, (October 29, 2019)
[viii] Sepehri Far, Tara. "Maximum pressure: US economic sanctions harm Iranians' right to health." Human Rights Watch, (October 29, 2019)
[ix] Jalalpour, Ahmad. "The US sanctions on Iran are causing a major humanitarian crisis." The Nation, (January 21, 2020)
[x] Landler, Mark. "Trump abandons Iran Nuclear Deal ne long scorned." The New York Times, (May 8, 2018).
[xi] Sepehri Far, Tara. "Maximum pressure: US economic sanctions harm Iranians' right to health." Human Rights Watch, (October 29, 2019)
[xii] n.n. "Six charts that show how hard US sanctions have hit Iran." BBC News, (9 December, 2019).
[xiii] Fisher, Max. "The U.S., Iran and a no-win game." The New York Times, (Jan 9, 2020)
[xiv] Basravi, Zein."The economic impact of US sanctions on Iran's streets." Aljazeera, (July 6, 2019)
[xv] Basravi, Zein. "The economic impact of US sanctions on Iran's streets." Aljazeera, (July 6, 2019)
[xvi] Jalalpour, Ahmad. "The US sanctions on Iran are causing a major humanitarian crisis." The Nation, (January 21, 2020)
[xvii] Jalalpour, Ahmad. "The US sanctions on Iran are causing a major humanitarian crisis." The Nation, (January 21, 2020)
[xviii] Jalalpour, Ahmad. "The US sanctions on Iran are causing a major humanitarian crisis." The Nation, (January 21, 2020)
[xix] Jalalpour, Ahmad. "The US sanctions on Iran are causing a major humanitarian crisis." The Nation, (January 21, 2020)